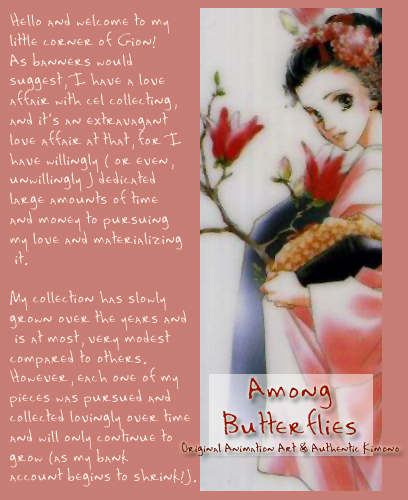 Please keep in mind that this is a personal, private gallery and that nothing is displayed here with intentions of selling.

So that's it. Enjoy your time and stay.



**Watch out for Falling Spoilers!!**



News & Updates



3/26/2010
Am sooooo behind with updates! A couple of new Wishlist items, though. New cels in "Road Rovers" and "Kannaduki no Miko". New cels and new sections "Inu Yasha Commercial" and "Inu Yasha OP/ED".
12/14/2009
Updates to both "Wolf's Rain" sections and "Juuni Kokuki/12 Kingdoms".
12/10/2009
Added a handful of "Road Rovers" cels and some "Inu Yasha" cels, including my Dream Cel.
12/9/2009
The first small update of many, many updates which will come steadily over the next few months. Over 200 items to add. Trying to do them by section. Today is "Jubei-Chan" and "Violinist of Hameln TV"